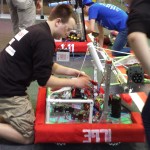 Working with its partner NASA, the 2014 FIRST regional competitions are featuring lots of webcasts of the competitons.
There are a series of webcasts every weekend during regional competition and they are greatly expanding the audience that has access to these events.
Click here to find a webcast featuring a competition in your area. Better yet attend a live event.