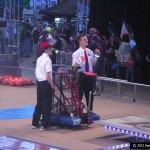 Competitions among robotics teams in local high schools have started, all with the goal to see who will walk away as champions when the best competitors meet in this year's finals in St Louis and Houston in April of 2017.
For the first time ever, US First will hold two separate championship rounds, with the stated goal being "to grow capacity and enable more young people to experience the thrill of the First Championship".
Part of this expansion of championships is to reduce the travel costs for many teams by providing a site that requires less travel.
Most of the prestigious awards earned at the championships will be replicated for both competitions.
Click here to read US First's announcement about this new championship format.