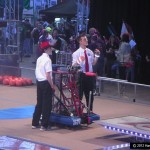 Team 4827 from Connolly High School in Austin, Texas is headed for this week's FIRST Robotics National Competition in St. Louis, and their story is a great example of how mentoring can make all the difference in a kid's life.
Robert Almgren, an employee of National Instruments and the FIRST in Texas chairman shared a great blog post about the Connolly story.
You can read it by clicking here.