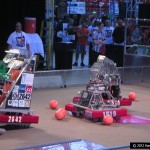 North Carolin FIRST Robotics teams are in the spotlight this weekend when Steamworks teams go head to head at Cambpell University.
Click here to watch a live stream of the events.
The top teams from Saturday's competiton will advance to the national finals in Houston.
Good luck Tar Heel teams!